---
Key Promotion in WINDY SCANDINAVIA AB
Johannes Hertel, WINDY SCANDINAVIA AB, has been promoted to the position of International Sales & Marketing Manager, effective July 1st. 2023.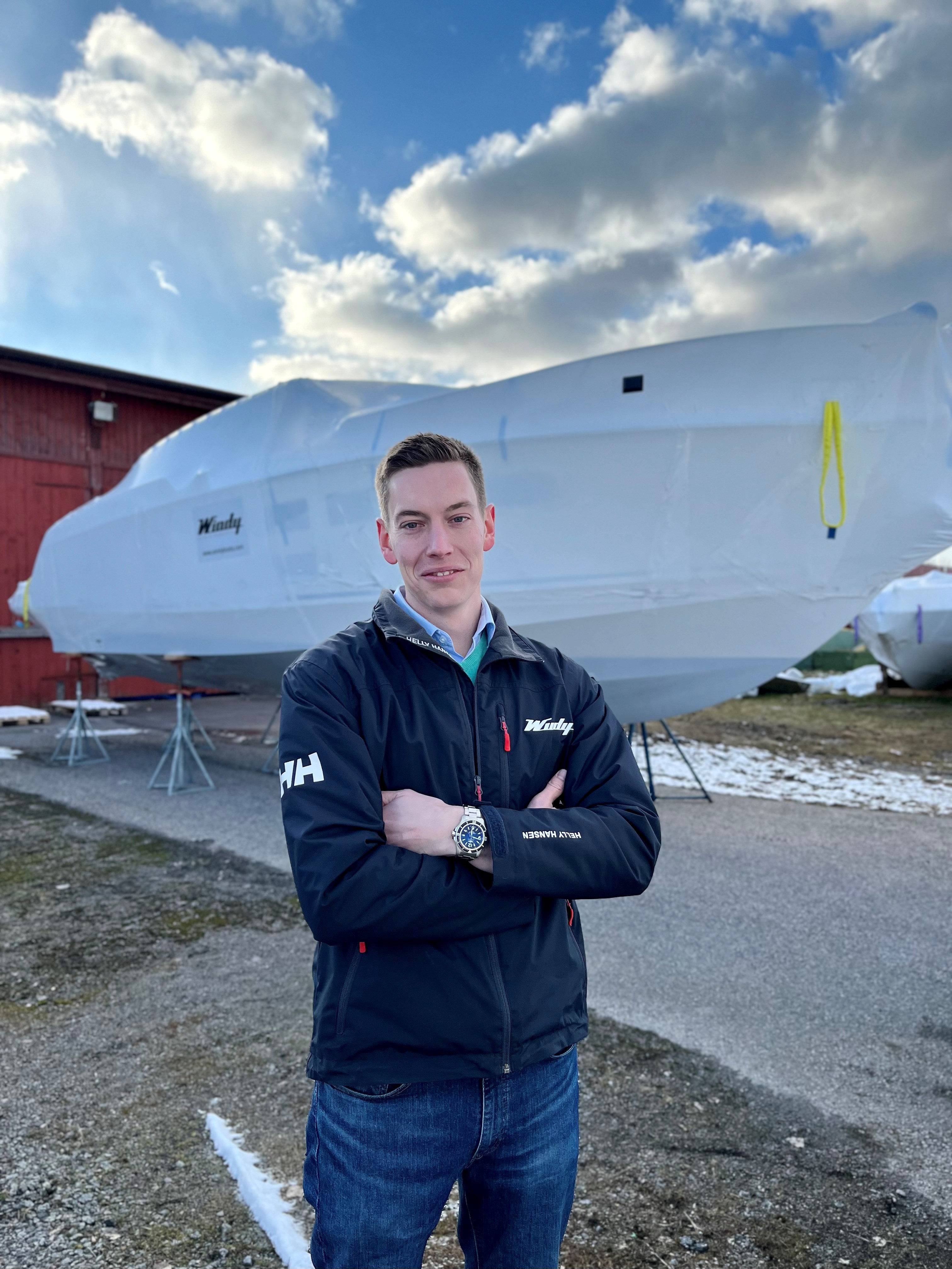 Johannes started his career in the UK in Plymouth finally studying his Masters in Yacht Design in Italy at the Politecnico di Milano.
He has worked in various Design Engineering positions at both Azimut, and Fairline and since 2019 at the Main WINDY Shipyard & Headquarters in Västervik Sweden. In Johannes new role he will work closely with our International Dealers as WINDY continue its expansion outside of Europe. Johannes will also coordinate with the Major Show Organisers for the Main WINDY Boat Exhibitions in Stockholm, Cannes, Fort Lauderdale and Düsseldorf.
For more information, please visit windyboats.com
---
---
---
---
---
---
Nauticampo 2023 – Lisbon Boat Show
Portuguese premiere for the WINDY SR28CC at the Lisbon Boat Show / Nauticampo 2023 in Portugal.
Our new Portuguese WINDY dealer Skyboat exhibited at the show that took place from 8th to 12th of February.

Windy and Skyboat would like to thank all visitors for their support and shown interest.


---
---
Bruno Kairet joins Merveille Nautic
Since January 1st 2023, Bruno Kairet has joined Merveille Nautic as Sales Director.
By joining Merveille Nautic, Bruno's mission is to contribute to the development of Merveille Nautic which, since September 1st, is the new exclusive distributor and importer of Windy boats in France and Monaco.
As such, Bruno will continue the privileged relationships he has created with Windy's customers and build new ones.
"We are very happy to welcome Bruno in our team. His knowledge of the market, his expertise in boats - especially Windy boats - and his loyalty are recognized by professionals and customers alike. Bruno has our full confidence to develop Merveille Nautic and satisfy a clientele of connoisseurs, in search of excellence", Nicolas Cantenot, CEO Merveille Nautic 
"I am delighted to join the Merveille Nautic team. Windy is indeed a prestigious and world-renowned brand with which I have had a privileged relationship for over 15 years. By joining Nicolas, I will be able to remain at the disposal of Windy's current owners - they know me well - and to forge new links with future buyers, to guide them and accompany them in their projects", Bruno Kairet, Sales Director Merveille Nautic
"We are extremely fortunate and proud that Bruno continues with the Windy brand. This decision will bring continuity to our many clients on the Côte d'Azur, both old and new. We wish Bruno and Nicolas a big success and look forward to presenting our new models together at this year's Cannes Yachting Festival", Trevor Fenlon, CEO Windy Scandinavia AB
---

WINDY BOATS APPOINTS NEW DEALER IN PORTUGAL
Scandinavian luxury boat manufacturer, Windy Scandinavia AB, is pleased to announce Skyboat as their new Portuguese Dealer - headquartered in Vilamoura, Portugal.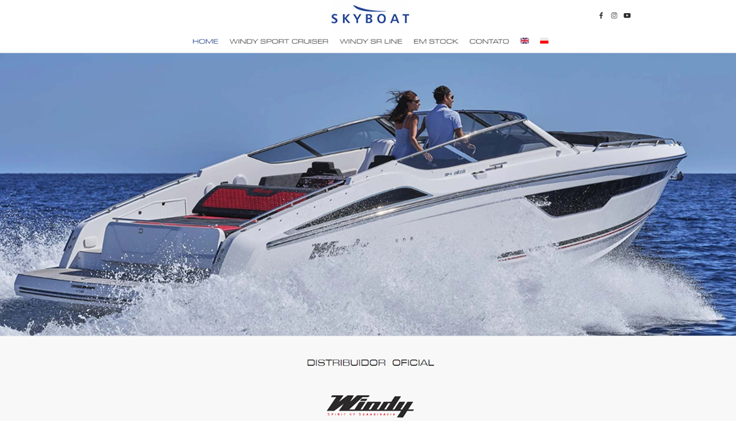 Skyboat was originally founded in Gdynia, Poland year 1995 by Grzegorz Skałbania, and have since 2012 until now served as the exclusive WINDY Dealer in Poland. With the recent expansion into the Portuguese boating market - Skyboat will from now also be the exclusive WINDY Dealer in Portugal, with sales office and full-service offerings.
WINDY CEO, Trevor Fenlon comments, "Skyboat has done an excellent job with WINDY in Poland and we are now very enthusiastic to develop the Portuguese market together with Grzegorz and his professional Team."
Skyboat owner and founder, Grzegorz Skałbania adds, "We are thrilled to officially open our exclusive Windy Boats distribution unit and sales office in Portugal.
We are also proud to bring our passion for boating to this amazing country and being able to exhibit/display WINDY SR28 CC for the first time in Portugal at Nauticampo 2023 boat show in Lisbon."
For more information about WINDY and Skyboat, please visit:
WindyBoats.com and Sky-Boat.pt
Note to Editors
For further press information please contact:
Paweł Szawczukiewicz +351 925 008 628 or email info@sky-boat.pt
Fredrik Delic +46 70 634 7736 or email fredrik.delic@windyboats.com
---
Next evolution of the award winning SR60
WINDY release renders of the stunning next development of the award winning SR60, built in the main production facility in Sweden. New models in build incorporate the options of huge 20ft balcony doors and enclosed helm with sliding doors.

Fredrik Delic, Sales Manager of WINDY comments. "We have now already sold hull #5 and are well into 2024 with orders. This new development will strengthen the SR60 concept even further and provides the ultimate experience for Yacht owners".
WINDY SR60 is a powerful 60ft Chaseboat with a strong personality and clear dual purpose. With a range of over 800 nautical miles at 25 knots, the SR60 has been designed to be the ultimate superyacht Chaseboat for long distance excursions. However, it will also serve as a very nimble sports boat for diving and fishing, as well as support shoreside exploration.

This contemporary and elegant design is fitted with a large swim platform aft of the luxurious guest area and bar, making it a very attractive vessel for socialising and enjoying relaxing times on the water.
---
WINDY 40 Camira
Milling of the tooling has now started in the milling machine for our new WINDY 40 Camira that will be launched at Cannes Yachting Festival 2023.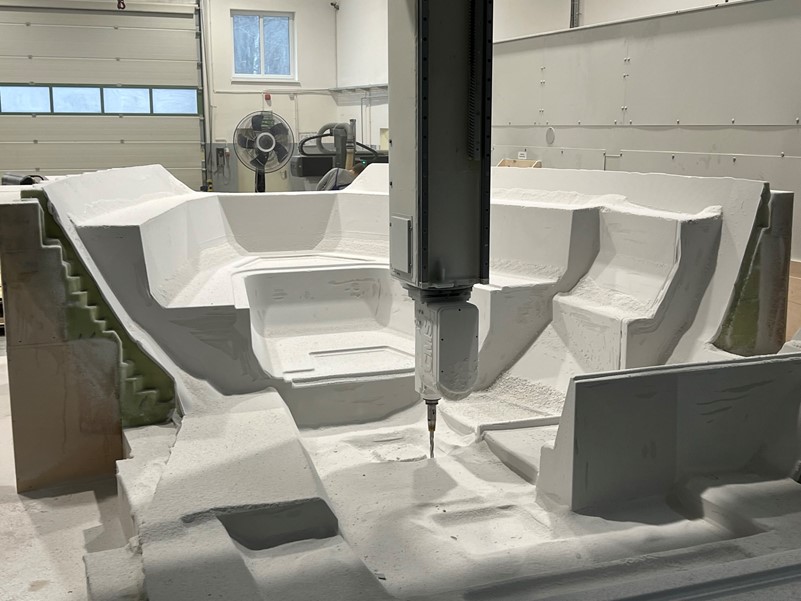 ---
DOWNLOADS
Windy Boat Models (Brochures)
Sport Cruisers
SR Line
Yacht Tenders
Catalogues
BOATSHOW CALENDAR 2023
FEB
8-12
Lisbon Boat Show, Portugal
 
10-19
VENE 23 Båt – Helsinki International Boat Show, Finland
 
15-19
Miami International Boat Show, USA
MAR
9-12
Allt för Sjön, Stockholm, Sweden
 
11-19
Storbåtmessen,  Leangbukta-Oslo, Norway
 
16-19
Allt för Sjön, Stockholm, Sweden
 
23-26
Palm Beach International Boat Show, West Palm Beach, USA
APR
21-23
South Coast Boat Show, Southampton, UK 
 
27-30
Mandelieu La napoule Boat Show, Mandelieu, France
 
27-30
Palma International Boat Show, Spain
 
29-30
Hochmuth Spring exhibition, Stansstad, Switzerland
APR-MAY
29-01
Jersey Boat show, Channel Islands 
MAY
TBA
Nacka Strand Water Front Days, Nacka Strand, Sweden
 
11-14
British Motor Yacht Show, Southampton, UK 
 
TBA
Veneet Vesillä, Helsinki, Finland
JUN
TBA
Vilamoura Boat Show, Portugal 
JUL
27-30
POLBOAT Yachting Festival, Gdynia, Poland
AUG
25-27
Marstrand Motorboat Show, Marstrand, Sweden
 
26-27
Seasight Holmen Fjordhotell Oslo, Norway
AUG-
SEP
31-03
Båter i Sjøen, Aker Brygge - Oslo, Norway
SEP
01-03
Allt på Sjön Gustavsberg, Sweden
 
12-17
Cannes Yachting Festival, France
 
15-24
Southamton International Boats Show, Southampton, UK 
 
27-30
Monaco Yacht Show
SEP-OCT
23-01
Interboot, Friedrichshafen, Germany
OCT
11-15
Barcelona International Boat Show, Spain
 
TBA
Let's Boat 2022 in Stansstad, Switzerland
 
25-29
Fort Lauderdale International Boat Show, USA