Windy deliver another stunning 12,5 M Limo Tender to Lürssen
Today Windy Scandinavia AB have delivered another stunning one off custom limo tender to Lürssen. 
WINDY DESIGN DEPARTMENT collaborate with the world's leading Design House's and build using advanced technologies with CAN bus controlled systems, fully integrated tablet function steered with full power distribution utilising digital switching.
WINDY is the world's leading custom tender partner.


---
---
---
---
37 Shamal sea trials
37 Shamal undergoing the toughest sea trials in the cold Baltic Sea. The low sun created the «trollsk» Nordic winter light as the Shamal cuts elegantly through the ice cold sea.


---
---
BOOT 2020 in DÜSSELDORF SETS NEW RECORDS
Boot Düsseldorf 2020 made history again with over 250,000 visitors from 106 countries and 1,900 exhibitors, who all came together at our trade fair, held at a gigantic exhibition arena measuring 2,5 million square feet! 

WINDY would like to thank all visitors and colleagues that helped out making this exhibition a huge success.
We hope to see you again shortly during the upcomins boat exhibitions during 2020 and/or at BOOT 2021.​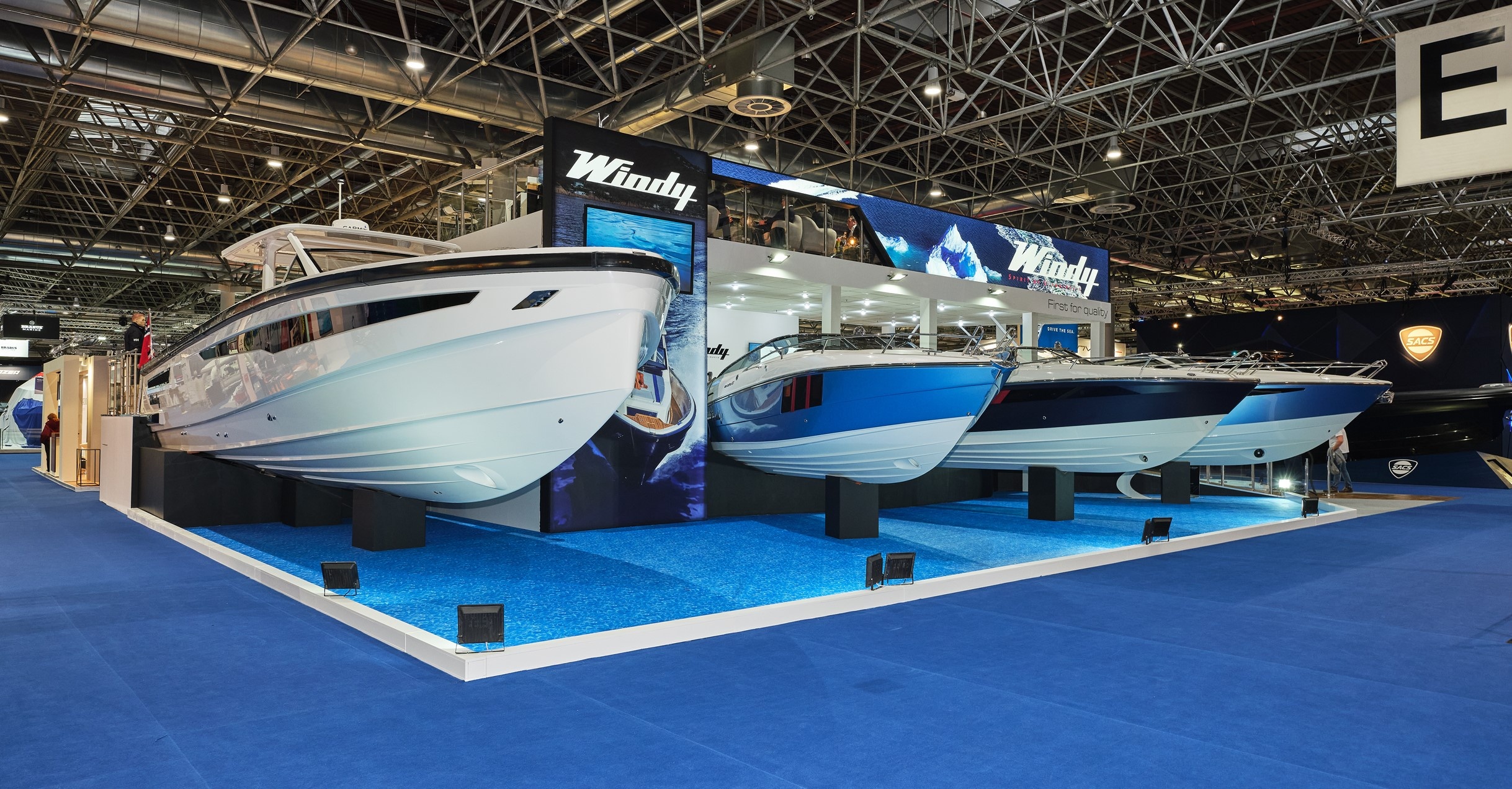 ​
---
Announced at Boot Dusseldorf this morning - the WINDY SLR60 designed by Malcolm McKeon Yacht Design
The first of these powerful 60ft superyacht chaseboats has been commissioned by an experienced superyacht owner and, when this first model has been delivered next year, we are delighted to confirm that Windy will put the SLR60 into production as the company's flagship.
---
Windy 37 Shamal unveiled at Boot Dusseldorf
Windy's international dealer network and members of the press gathered at the Windy stand this on Saturday to witness the unveiling of the 37 Shamal, designed by Espen Øino.
Steeped in Windy's core DNA, the 37 Shamal has a modern-retro styling and was inspired by the Windy models of the 60s and 70s.
---
37 Shamal to launch at BOOT 2020
Superyacht style meets superior finishing aboard the 37 Shamal. Our highly experienced team have worked tirelessly to perfect every millimeter of this magnificent new sports boat.
The 37 Shamal has been designed by the award-winning Espen Øino, known for his iconic superyacht designs, Windy Scandinavia AB feels extremely privileged that he has dedicated his attention to this new model.  See the result for yourself at @BOOT 2020 in Düsseldorf.
---
---
---
---
---
WINDY DOWNLOADS
See the Windy Boats Catalogues online
Specifications
2020 Boat show calendar
| | | |
| --- | --- | --- |
| JAN | 18 - 26 | Boot 2020 Düsseldorf, Germany |
| FEB | 02 - 10 | Gothenburg Boat Show, Sweden |
| MAR | 06 - 15 | Allt för sjön. Stockholm, Sweden |
| APR | 29 - 03 May | Palma International Boat Show, Spain |
| AUG | 28 - 30 | Copenhagen Boat Show. Ishøj Havn, Denmark |
| SEP | 03 - 06 | Båter i Sjøen, Oslo, Norway  |
|   | 08 - 13 | Festival de la Plaisance de Cannes, France |
|   | 11 - 20 | PSP Southampton Boat Show, England |
|   | 19 - 27 | Interboot. Friedrichshafen, Germany |
|   | 23 - 26 | Monaco Yacht Show, Monaco |
| OCT | TBA | Barcelona International Boat Show, Spain |